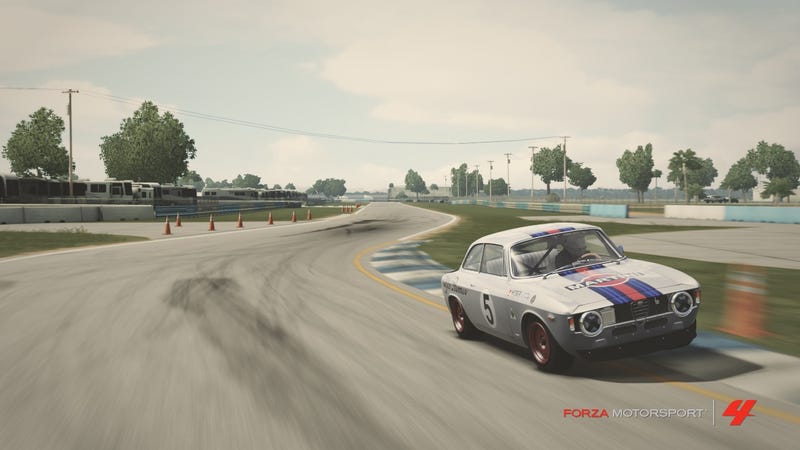 A continuation of the Trans-Am post so please keep your comments to that page, this is solely an information addendum.
---
B450 CAR RULES AND SPECIFICATIONS
- The list of eligible cars is as follows, chosen because a) they all actually participated in or fit the spirit of the Two-Five Challenge and b) they are the most equal of all the cars of the era that I tested:
1973 BMW 2002
1970 Datsun 510
1965 Alfa GTA
1969 Datsun 240Z
1963 VW Beetle
1977 Ford Escort
1973 Ford Pinto
1969 Chevrolet Corvair
1966 Lotus Cortina
1970 Porsche 914
1980 131 Abarth
1971 Nissan Skyline GT-R
- Whatever you choose will be built to B450 for the same reasons as the A550 cars (no overpowered storefront tunes and this PI number is the sweet spot for parity among the cars). Like the bigger cars, all your options are within a second of each other at Mugello (they're in a different order than listed above so good luck figuring out which one's the fastest) so this should be another interesting series.
- We'll have the same BoP adjustment rules as the A550 series: I post a lap time, you build a car with the following mandatory upgrades, and then add or subtract PI points to match (but not exceed) that time. In the event you need to lower PI, begin by removing tire compound and tire width. The reasoning behind this is the fast people post such quick laps because they're quick in the corners, and taking away grip from them will essentially cancel out their advantage but still leave them with enough horsepower on the straights to keep up with the rest of the pack.
- Custom tunes still allowed and personalized liveries very much encouraged.
Mandatory Upgrades:
- The mandatory upgrades are almost identical to the A550 cars but a bit different so please pay attention to ensure you bring a legal car.
- Again no engine, drivetrain, or aspiration swaps.
- Fully upgraded race brakes, springs/dampers, chassis reinforcement/roll cage, weight reduction, tire width, and tire compound.
- The sport gearbox is required. The racing gearbox is optional because its gear ratios screw with some of the cars' launch stats and not everyone has enough tuning know-how to compensate for it.
- Custom rims again required, no larger than stock, and again no super-heavy rims to game the PI system.
- All aero is required for two reasons: it brings down the varied top speeds and ensures inherently fair lap times as seen above, and it drops your car by a few PI so you can add more engine upgrades for faster acceleration. You can tune away the downforce if you want but it only adds about 5mph to your top speed, and you'll want to keep some for the corners since some of these little bastards are more of a handful than the muscle cars.
- Again, none of these upgrades are negotiable, the aero included, so please don't ask me about changing any of them.
---
RACE INFO
Time:
These races will act as a kind of teaser for the Trans-Am series, taking place on the preceding Saturdays beginning December 27th at 4:15pm-ish EST. Race length will be shorter than the Trans-Am cars at around 30 minutes and we won't be doing endurance races. Depending on feedback the Nurburgring and Le Mans rounds might be replaced by shorter tracks, I don't know if you guys really wanna do those or not.
Assists and Damage:
Any and all allowed/cosmetic only. I again ask you please not drive like a jackass, even if you are in the BMW.
Grid Ordering:
Random. Enjoy the clusterfuck.
Scoring:
Same deal, 16pts for 1st, 15 for 2nd and so on. Most points at the end of the season nets you the championship.
Race Schedule:
12/27*: Sebring - 12 laps

1/10: Laguna Seca - 18 laps

1/24: Le Mans - 6 laps

2/7: Infineon - 16 laps

2/21: Road Atlanta - 18 laps

3/7: Mugello - 14 laps

3/21: Sunset Peninsula Speedway - 16 laps

4/4: Silverstone - 14 laps

4/18: IMS - 18 laps

5/2: Circuit de Catalunya - 14 laps

5/16: Road America - 12 laps

5/30: Nordschleife - 3 laps
*I'll be out of town for the opening round of this series so we'll need someone else to host the race. If you want to, please reply and let me know that you can.

---
FINAL THOUGHTS
- Very important tuning note: no matter what car you choose, stiffen up its springs and roll bars. A lot of these cars are a bit Orlove-prone in stock settings.
- Shout-out to Guy with a 2wd XJ for making this happen, this was mostly his idea and I just filled in the details.